Breast Lift Surgery With Implants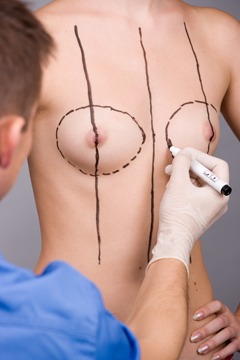 Breast lift with implants cosmetic surgery is a major procedure that should only be performed by a skilled and experienced plastic surgeon. You should invest time in selecting the right surgeon for your needs who is preferably board certified and has a demonstrated track record of successfully performing complex plastic surgery procedures.
Board certified plastic surgeon Dr. Bram Kaufman provides breast lift surgery with implants to patients in Cleveland, Beachwood, Pepper Pike, Lyndhurst, OH, and surrounding locations.
Things to Consider
Before you seek a suitable surgeon for your needs, you should prepare a checklist of questions, which can help you determine your choice of a surgeon. While you would want to work with a surgeon with the right qualifications and experience, you may also prefer to work with a surgeon who is caring and compassionate, and has an excellent bedside manner.
You should consider whether you would be more comfortable with a plastic surgeon that guide you on the most appropriate procedure or one who will take your lead and do exactly as you ask them? It is best to ask the following questions to your surgeon frankly during your initial consultation:
What are your credentials, experience, and qualifications?
How many years of experience in cosmetic surgery do you have?

How many plastic surgeries have you undertaken to date?

Can I view examples of your previous work?

What surgical technique will you use to perform by breast lift with augmentation procedure?

Is a combined procedure appropriate for me? If not, what alternatives do you recommend?
What are my options in case I find the final outcomes unsatisfactory?

How much will this procedure cost me?

Where will you perform my surgery?

What are the potential risks associated with this procedure?

What can I expect during the recovery phase?
How sustainable are the outcomes?
There are many more questions that you can ask from your surgeon. During the consultation, you should feel free to clear all your doubts and concerns in order to make an informed decision.
Customization
Breast augmentation with lift cosmetic surgery is highly customizable. Dr. Kaufman will assess your unique anatomy and your individual aesthetic goals to develop a personalized surgical plan. He focuses on creating highly desirable cosmetic outcomes in an integrative and holistic way. He will adopt a conservative approach to the surgery and use common incision wherever possible to minimize the subsequent scarring.
Although breast implants with lift is a major procedure, Dr. Kaufman will aim to reduce your risk, downtime and discomfort through innovative and proven surgical techniques. In some cases, he may recommend you to undergo an additional non-surgical cosmetic procedure which could reduce the invasiveness of your procedure.
Is your plastic surgeon board certified?
Choosing a board certified surgeon is the ideal way to make sure that the surgeon has received the appropriate training in plastic surgery. Recognized plastic surgery boards will provides certifications on the basis of rigorous criteria, and you can be confident of the skills and experience of the plastic surgeon if they are board certified.
Cosmetic surgeon Dr. Bram Kaufman receives patients from Cleveland, Beachwood, Pepper Pike, Lyndhurst, OH, and nearby areas for breast augmentation with lift surgery.
Contact Us To Schedule a Consultation with Cleveland Plastic Surgeon, Dr. Bram Kaufman
To learn more about cosmetic treatment and procedures or to schedule a consultation by Cleveland Ohio area plastic surgeon, Dr. Bram Kaufman, please contact us at 1-216-778-2245 or click here.
Now taking new patients in Cleveland OH | Pepper Pike | Beachwood | Lyndhurst and other surrounding areas.