Botox Brow Lift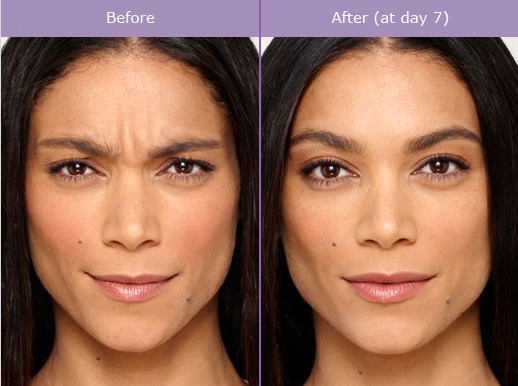 Botox forehead lift or brow lift is a procedure that gives the eyebrows a temporary lift by using neurotoxins. The upward-pulling muscle of the forehead is better at doing its thing when injectables are used for relaxing the muscles that drag the eyebrows down. The toxin will cause the brows to lift for anywhere from 3 – 5 months.
Board certified plastic surgeon Dr. Bram Kaufman provides Botox brow lift and Botox forehead lift to patients in Cleveland, Beachwood, Pepper Pike and Lyndhurst, OH, and surrounding locations.
How Does Botox Brow Lift and Forehead Lift Work?
The 11s or the corrugator muscles are the muscles causing vertical lines between the brows. As per experts, the corrugator muscles are the depressors of the eyebrow's inner part. You can see how the brows are pulled down if you look in the mirror and make a mean face. The front half of the eyebrows will stay lifted when you relax the muscles.
This will leave the eyebrow's outer portion up till the lateral depressor. This is also known as the orbicularis oculi muscle, which is a circular muscle going around the eye. This muscle is responsible for crow's feet when we smile. The arch can float upwards by relaxing specific parts of the muscle responsible for pulling down the outer corner of the brow and arch.
Botox Brow and Forehead Lifts are Popular
There is an increased demand in Botox because of celebrities that love the way the neurotoxin arches their brow. Hundreds of Botox forehead and brow lifts are performed on a daily basis. This is in combination with other injectables or as a standalone procedure.
Full and arched brows are popular right now as per analysts. Instagram and other social media sites have made them highly popular. Patients want ways to make their eyes 'open' more and to raise the eyebrows. There are several women that specifically ask for Botox brow lifts as well. Visible eyelid also means larger canvas for applying eye makeup, which is bonus attraction.
Candidate for Botox Brow Lift and Forehead Lift
Anyone bothered by the sagging appearance of their wrinkled forehead, frown lines, and brows is a suitable candidate for Botox forehead lift and brow lift. You should know that Botox is not permanent. You don't have to get it done again if you don't like the results. It only takes 30 seconds to complete the procedure.
There is no downtime or bruising. However, there may be initial redness or small bumps at the injection site. These side effects are temporary in nature and resolve on their own.
Choose an Experienced Treatment Provider
Botox forehead and brow lift is an art and science both. You should seek an expert to achieve safe and desirable results. Botox when performed incorrectly can flatten the brow arch. It can also result in droopy eyelid. It is important that you perform your research before getting any type of aesthetic procedure performed.
This holds true when it comes to having Botox brow lift performed as well. Cosmetic surgeon Dr. Bram Kaufman receives patients from Cleveland, Beachwood, Pepper Pike and Lyndhurst, OH, and nearby areas for Botox forehead lift and Botox brow lift.
Contact Us To Schedule a Consultation with Cleveland, OH Plastic Surgeon, Dr. Bram Kaufman
To learn more about cosmetic treatment and procedures or to schedule a consultation by Cleveland Ohio area plastic surgeon, Dr. Bram Kaufman, please contact us click here.
Now taking new patients in Cleveland OH | Pepper Pike | Beachwood | Lyndhurst and other surrounding areas.