Restylane Dermal Filler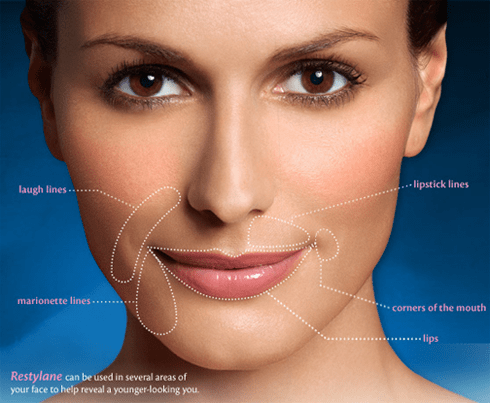 Restylane is a non-surgical cosmetic facial filler. It is developed using NASHA or non-animal stabilized hyaluronic acid. Restylane doesn't contain any animal by-products and comes in a gel form. The main component hyaluronic acid occurs naturally in skin and tissues of humans. Hence, there is no need to get allergy tests before getting the treatment.
Board certified plastic surgeon Dr. Bram Kaufman provides Restylane soft tissue filler injections to patients in Cleveland, Beachwood, Pepper Pike, Lyndhurst, OH, and surrounding locations.
Advantages of Restylane Dermal Filler
Hyaluronic acid found naturally in the human body contributes to the youthfulness and firmness of the skin. The compound gets depleted over time due to natural aging and other causes. Your surgeon will try to restore the lost volume by using Restylane filler injections. This will also help in revitalizing your facial skin.
Restylane formula is biodegradable, which means it will slowly disintegrate in your tissues. However, the treatment results still manage to last for as long as 6 months to a year. You can enhance your facial contours and decrease scars, folds, minor imperfections, wrinkles, and depressions in the face with Restylane dermal injectables. Some of the key aesthetic functions are:
Chin enhancement
Wrinkles reduction
Nasolabial folds reduction
Acne scars reduction
Volumizing cheek hollows
Softening jowl impact
Filling eye depressions
Lip definition and augmentation
Brow lift
Reducing the appearance of marionette lines around the mouth, worry lines, smile lines, crow's feet, and smoker's lines
Eye Rejuvenation with Restylane
Your face can suffer and look aged or dull beyond measure with under-eye hollows and dark circles. Restylane is a safe, effective, and proven FDA-approved dermal filler injectable. It addresses under eye hollows and rejuvenates the eye for a more youthful appearance. It will also volumize the delicate skin areas around the eyes in a non-surgical way.
Your treatment provider will inject Restylane dermal filler along the orbital rim. This is a safe region for the injectable. Most patients don't need more than 1ml of Restylane gel to correct their dark circles. However, the final amount required will depend on your unique facial structure.
Restylane for under eye hollows and dark circles is desirable as the filler can be molded to any shape. The treatment provider can adjust lumps and bumps more efficiently since Restylane is a malleable and viscous gel.
Lip Enhancement with Restylane
Signs of aging could show up around the lips and mouth as well in the form of lines. Your lips may lose their shape, become thinner of get visibly noticeable vertical lines. This can make anyone appear older than they actually are. Restylane Silk is a revolutionary new product. It is also the first and only FDA-approved dermal injectable gel for mild lip enhancement.
The treatment works to smooth wrinkles and lines around the mouth. It can be used on anyone older than 20 years. Restylane Silk can go a long way in restoring your smile and attaining a desirable lip shape. Cosmetic surgeon Dr. Bram Kaufman receives patients from Cleveland, Beachwood, Pepper Pike, Lyndhurst, OH, and nearby areas for Restylane facial filler injections.
Contact Us To Schedule a Consultation with Cleveland, OH Plastic Surgeon, Dr. Bram Kaufman
To learn more about cosmetic treatment and procedures or to schedule a consultation by Cleveland Ohio area plastic surgeon, Dr. Bram Kaufman, please contact us at 1-216-778-2245 or click here.
Now taking new patients in Cleveland OH | Pepper Pike | Beachwood | Lyndhurst and other surrounding areas.