Juvederm Dermal Filler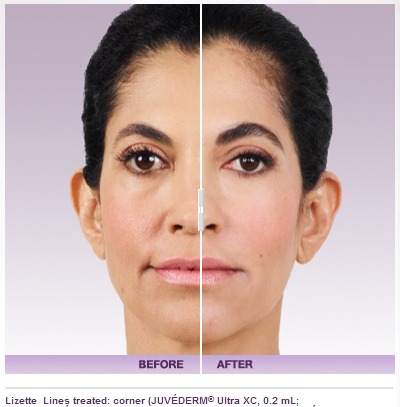 Your facial appearance can easily give away your age. Several wrinkles and lines on the face can make you appear older than you actually area. Juvederm dermal injectables is a type of non-invasive treatment that helps in reducing the appearance of wrinkles and lines.
It gives you a more refreshed, youthful, and rejuvenated look. Juvederm dermal injectables offer instant results by making your skin appear firmer and tighter. Board certified plastic surgeon Dr. Bram Kaufman provides Juvederm soft tissue filler injections to patients in Cleveland, Beachwood, Pepper Pike, Lyndhurst, OH, and surrounding communities.
Juvederm Treatment Areas
Juvederm dermal fillers can be used:
To volumize hollow cheeks
To remove lines and wrinkles from the nose, mouth and forehead
For enhancing the appearance of nose and lips by reducing nasolabial folds
To reduce acne scar visibility
To improve facial contours
Juvederm injections are FDA approved for reducing facial lines and wrinkles cosmetically. They are safe and can be administered in-office. You don't need sedation or general anesthesia for this treatment. The gel usually includes lidocaine, which is a local anesthetic. This will help keep things comfortable.
Juvederm is Highly Customizable
The treatment provider will assess your face during the pre-op consultation. They will recommend the right dosage and treatment that will provide you with optimal results. It may mean getting just Juvederm dermal filler injections. Or, it may mean getting Juvederm in combination with another non-surgical procedure, such as Botox for reducing the early signs of aging.
Advantages of Juvederm Dermal Filler
Juvederm injectable can help with the following:
Improve your laugh lines
Laughter causes the muscles around the mouth to move in a distinct fashion, which can cause laugh lines. These lines can become very prominent in some people. They may be visible even when the person is not laughing.
Juvederm can help in softening such laugh lines without any invasive surgery. Many cosmetic surgeons recommend Juvederm with Botox if patient skin can support the dual treatment.
Lip enhancement
Asymmetric and thin lips can make your face look pensive and aged. You can get more voluptuous and defined lips by undergoing Juvederm filler treatment. It can also help improve your lip symmetry.
Reducing eye bags
Your face may get an aged look with bags under the eyes. Juvederm filler injections can help in taking care of the puffiness under eyes. It can help smooth the area for a more desirable look. You don't need to depend on eye make up to hide puffiness or your eye bags anymore.
Nose reshaping
Rhinoplasty is generally used to reshape the nose. However, Juvederm treatments in combination with Botox can provide similar results in an easier and non-invasive manner. Juvederm injections can go a long way in correcting minor imperfections in the nasal tip and nostrils. You can also correct small nasal bumps.
Cheek volumizing
Cheeks with age tend to sag because they lose volume. Juvederm injectables can fill your cheeks and subtly lift the cheekbones. Cosmetic surgeon Dr. Bram Kaufman receives patients from Cleveland, Beachwood, Pepper Pike, Lyndhurst, OH, and nearby areas for Juvederm facial filler injections.
Contact Us To Schedule a Consultation with Cleveland Plastic Surgeon, Dr. Bram Kaufman
To learn more about cosmetic treatment and procedures or to schedule a consultation by Cleveland Ohio area plastic surgeon, Dr. Bram Kaufman, please contact us at 1-216-778-2245 or click here.
Now taking new patients in Cleveland OH | Pepper Pike | Beachwood | Lyndhurst and other surrounding areas.