Restylane Dermal Filler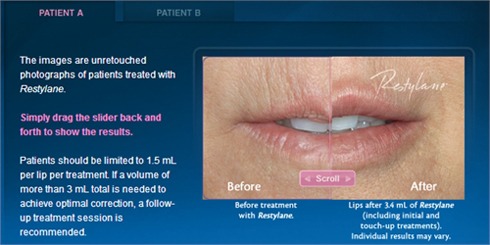 Restylane injectables are one of the most popular non-invasive dermal fillers for reversing the signs of facial aging. The injectable filler is FDA-approved and has been in use for over a decade on a global scale. Restylane also happens to be more cost-effective when compared with other non-invasive or aesthetic invasive procedures designed for rejuvenating the face.
Your treatment provider will make you aware of the various aspects of the Restylane procedure during the initial consultation. This consultation will involve approximate costs. The primary concern of any judicious treatment provider will be to ensure that you understand advantages and limitations of the procedure. They will also guide you through the cost benefit analysis so that you can compare it with other treatment alternatives.
Board certified plastic surgeon Dr. Bram Kaufman provides Restylane soft tissue filler injections to patients in Cleveland, Beachwood, Pepper Pike, Lyndhurst, OH, and surrounding communities.
Factors Affecting Restylane Cost
Restylane costs can vary between two treatment providers due to the following factors:
Location of the Practice
There are several factors, including local taxation, real estate costs, and average household income that affects the cost of living. Practices located in main urban centers or busy metropolitan areas will incur higher operational costs as compared to smaller, remotely located towns.
Best Practices and Quality Standards
Best practices and standard of care offered by a dermatology practice will impact the overall treatment cost to a mild extent. Offices offering advanced treatment environment and state of the art technology with expert staff members may end up charging more than the average med spa offering basic care and quality standards.
Extent of Procedure
The price tag of the Restylane treatment can be calculated based on the number of treatment hours or syringes used. The treatment cost between two patients at the same facility can vary depending on the extent of facial rejuvenation and the amount of correction required.
Amount of Restylane gel required can be more if the treatment area is more. Certain patients require appropriate monitoring and repeated sessions for achieving their aesthetic goals. Other patients may combine Botox and Restylane or other procedures. Additional treatments can increase the overall monetary amount.
Other Cost Aspects
There can be special discounts on Restylane from time to time for a limited duration. This will help in lowering the cost. Treatment providers may also offer special discounted rates if the patient gets the treatment in combination with other procedures. This can cause the treatment cost to differ between two patients.
Restylane Insurance and Financing Options
Restylane dermal injection is generally performed as an elective procedure. You may not be able to recover the costs under regular insurance coverage. However, patients can choose financing options to pay for the entire treatment in one time.
There are several professional medical care financing companies that provide competitive loans with low interest rates and fast approvals. They also offer the option for convenient monthly installments of up to 60 months.
Cosmetic surgeon Dr. Bram Kaufman receives patients from Cleveland, Beachwood, Pepper Pike, Lyndhurst, OH, and nearby areas for Restylane facial filler injections.
Contact Us To Schedule a Consultation with Cleveland, OH Plastic Surgeon, Dr. Bram Kaufman
To learn more about cosmetic treatment and procedures or to schedule a consultation by Cleveland Ohio area plastic surgeon, Dr. Bram Kaufman, please contact us click here.
Now taking new patients in Cleveland OH | Pepper Pike | Beachwood | Lyndhurst and other surrounding areas.