Chin Augmentation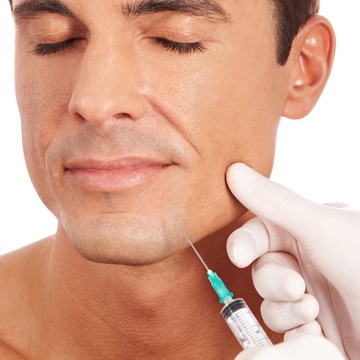 To create the right balance between your nose, neck, and cheeks, it's critical to have a well-defined chin. The chin, however, will be of a different shape and size for each individual. While a recessed chin may not give a definitive structure to create a distinction between your face and neck, a small chin will make your nose look larger.
If you are concerned with the strength of your chin, then there are cosmetic surgery and non-surgical procedures available to enhance it. There are two primary methods to address weak chin. One of them is a non-surgical chin enhancement procedure using dermal fillers, while the other one is a chin implant plastic surgery.
It is up to you to decide which one meets you needs more effectively. Facial fillers give you an improved jawline for a temporary time period, whereas chin implants are the best choice if you are looking for lasting changes. Board certified plastic surgeon Dr. Bram Kaufman provides chin augmentation to patients in Cleveland, Beachwood, Pepper Pike and Lyndhurst, OH, and surrounding communities.
Chin implant surgery
Also known as genioplasty, chin implant surgery is a proven procedure for chin augmentation that produces dramatic improvements in your facial profile. In this procedure, an anatomically shaped medical grade silicone is implanted around your chin bone by making a short incision underneath the chin or inside your mouth. The implants are permanent and can last a lifetime.
Advantages of chin implants
Creates a natural-looking chin
The surgical implants can be customized to match your requirements
When performed by a qualified cosmetic surgeon, the risks are very low
The scars will be barely noticeable once healed
Genioplasty can be performed together with neck liposuction for better results
Advantages of chin augmentation with fillers
Almost immediate improvements in your chin
There is no need to undergo a surgery
No need to administer general anesthesia
Safe and effective for

the majority of

the patients
The cost of undergoing chin augmentation with fillers is considerably lower than implants surgery
Which one to choose: chin implants or dermal fillers?
If you are hesitant to undergo a surgical procedure involving incisions but would want to enhance your chin, then it is best to choose filler injections. Even though the results after dermal filler won't be dramatic when compared to an implant, it will provide satisfactory results for a limited period of time. Especially when you only need a small enhancement on your chin contour, then dermal fillers can satisfy your requirements in a better way.
When should you choose chin implants?
If you require a substantial chin augmentation to meet your aesthetic goals and reverse the effects of a recessive chin.
If you prefer a single long-term procedure to improve your facial profile, without involving revisions or periodic visits to your cosmetic surgeon.
If you had your fillers done

before, and

are now ready to make lasting changes to your chin.
If you are having plans for additional surgical procedures, such as rhinoplasty.
To sum up, dermal fillers can provide a new and improved jawline temporarily while the results with chin implant plastic surgery will last for years. Cosmetic surgeon Dr. Bram Kaufman receives patients from Cleveland, Beachwood, Pepper Pike and Lyndhurst, OH, and nearby areas for chin augmentation.
Contact Us To Schedule a Consultation with Cleveland Plastic Surgeon, Dr. Bram Kaufman
To learn more about cosmetic treatment and procedures or to schedule a consultation by Cleveland Ohio area plastic surgeon, Dr. Bram Kaufman, please contact us at 1-216-778-2245 or click here.
Now taking new patients in Cleveland OH | Pepper Pike | Beachwood | Lyndhurst and other surrounding areas.